Hydraulic Goods Lift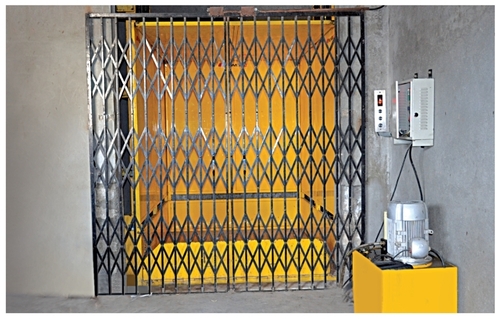 Hydraulic Goods Lift
Product Description
Hydraulic Goods Lift offered by our company, is mainly provided to our customers, to perform various tasks. The supplied lift is made under the supervision of our skilled personnel using high-quality components and adhering to quality standards. This lift is mostly used in various industries to help in transferring of goods from one level to another.Hydraulic Goods Lift is often used in industries such as paper, textile, paint, automobile, and pharmaceuticals. This lift is available from us in a variety of technical specifications and at competitive costs.
Hydraulic Goods Lift Features:
Trouble free functioning
Less maintenance
Heavy load carrying capacity
Long functional life
Frequently Asked Questions:
1) What is hydraulic lifting?
Hydraulic lifts use a hydraulic cylinder system to lift, move, and position heavy loads. While their designs vary depending on the intended application, all hydraulic lifts function using the same basic components: A hydraulic cylinder enclosing a piston.
2) Is hydraulic lift good for home?
Hydraulic elevators are heavy-duty elevators built for frequent, long-term use. They also have an ultra-smooth ride quality and are typically very quiet. They are one of the best elevators for durability, larger weight capacities, and serving a higher number of floors.
3) What are the types of hydraulic lift?
There are four types of hydraulic lifts namely goods and car lifts, hospital and stretcher lifts, capsule lifts, and passenger lifts.
4) Which lift is better hydraulic or electric?
By comparison, electric motors are much smoother and allow for more precise movement.Best of all, there is virtually no difference in these machines carrying or lifting capacity, meaning an electric material lift is just as effective as its hydraulic counterpart.
Trade Information
ISO 9001:2008, 14001:2004 & OHSAS 18001:2007 Certified Company