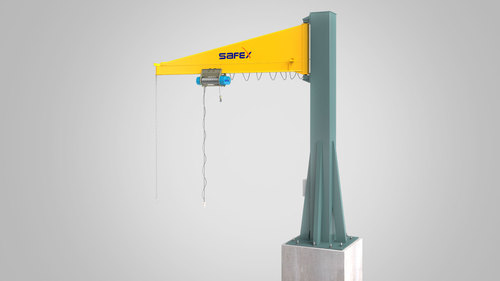 Pillar Mounted Jib Crane
Price And Quantity
Unit/Units

50000.00 - 500000.00 INR
Product Description
Safex offers a complete line of quality-built jib cranes to meet the most demanding material handling requirements. There are various jib crane models from which to choose: floor-mounted pillar types, top and bottom-supported units, wall or column-mounted versions and models that afford manual or motorized rotation. Built to the highest industry standards. Safex jib cranes have earned a reputation for ruggedness and durability.

Operates like an arm in a work area, where it can function as a manipulator for positioning tasks. A hoist is attached to the arm for lifting arm mounted on the wall or attached to a floor mounted support arm can rotate 360. The hoist can move along the arm jib cranes assist the staff and multiply human efforts, handling loads up to 5000 kgs. Precisely and effortlessly. Pillar Mounted Jib Crane are useful especially for loading or unloading of work pieces on machine tools. These are also useful for loading or unloading from trucks. They can also become an inseparable part of a standalone workstation. Column mounted jib cranes are necessary when no other appropriate support near a workstation is available. Wall mounted jib cranes are ideal solutions for workstations located near walls or vertical structures.

Pillar Mounted Jib Crane Specifications:
1) Safe Working Load: 250 kgs. to 5,000 kgs.
2) Radius: 2 mtrs to 6 mtrs.
3) Heights of Lift: As per customer's specifications.
4) Class of Duty / Standards: Equivalent to M5, M7, M8 as per IS:3177 / IS :807.
5) Speeds: Selected depending on client specifications / applications / shed dimensions.
6) Crane Control: From floor through pendant push buttons, optionally through radio remote control.
7) Drive System: Drive through squirrel cage induction geared motors with built-in fail safe brakes.
8) Motors: Squirrel cage induction hoisting motors with built-in fail safe brakes for hoisting and cross travel.
9) Brakes: Built-in brakes for hoisting, cross travel and rotational motions.
10) Power Supply System: To hoist and cross travel through trailing cables / drag chain to crane through shrouded bus bars / trailing cable.
Trade Information
ISO 9001:2008, 14001:2004 & OHSAS 18001:2007 Certified Company